A gap in the market – why you should be targeting the over 50s
Our recent blog, A Guide to Capturing the Millennial Market, addressed ways in which retailers could target this 14m strong market of shoppers. While obviously a key market for many retailers, the cost of living crisis is pinching the pockets of this and other demographics. Could now be the time for retailers to target the more financially secure over 50s shoppers?
Inflation is at a 40-year high and disposable income is being swallowed up by energy bills and high prices across everyday essentials. However, research by Kantar shows that the over 50s market is now the biggest spender of all, accounting for 45% of money spent on fashion in the last year and already showing an increase this year of 23% on 2021.
While typically more financially secure than younger generations, this group is often overlooked as a key target market with 55+ women feeling forgotten, especially in the fashion industry. Kantar's research found that 60% of the biggest retailers 'under-serve' the 50+ shopper and that just 35% of this group feel catered for.
Kantar's Strategic Insights Director, Andrew Saxton, says:
"There is a significant gap in the market"
While it appears that larger retailers are beginning to address this gap, with H&M recently signing 84-year-old Jane Fonda to be the face of their new exercise clothing range, many are still missing this enormous opportunity.
Understanding your audience
It's important at this point to note that today's over-50s are not like those of yesteryear; for many 50 is the new 30.
Joe Brown's Marketing Director, Tracey Hepton, says of today's 50+ woman:
"She feels that brands often use her age rather than her attitude to appeal to her, and therefore feels patronised by older brands claiming to cater to her needs."
Understanding Shopping Habits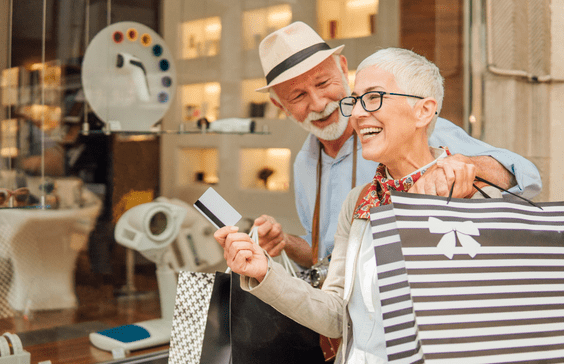 Research shows that 28% of over 50s' shopping is done on the high street, but out-of-town retail parks are also a big draw. When it comes to what they prefer to spend money on, a large proportion is spent on lifestyle enhancements such as clothing, homeware, holiday purchases and gifts for others.
eCommerce is an area for significant growth among this age group, with around 40% of shopping now happening online. The pandemic no doubt had a hand in this, but today's over 50s are now the most tech-savvy of all time.
"They are becoming more engaged with tablet and laptop shopping than the average buyer, creating plenty of opportunities to target them," says Andrew Saxton.
One retailer with a clear strategy to tackle this is Unbound Group who recently launched an eCommerce site, Hotter Shoes, specifically targeting the 50+ with brands such as Hush Puppies, Rohan and Sketchers taking pride of place. The aim of this strategy is to connect with the 50+ market by focussing on the brands they are proven to buy.
Tapping into their 4.6m strong database, Unbound's research showed which brands were popular with this key demographic and provided insights into buying habits.  This data enabled the company to design a platform specifically for this age group, with future plans to personalise the user experience further as they discover more about each individual customer.
While eCommerce is an obvious channel, it's somewhat surprising to see that social media is another growth area for over 50s shopping. Research conducted by Hootsuite shows that men aged 55 to 64 were Instagram's fastest growing audience in the last 12 months. Savvy retailers are now turning to social media campaigns which specifically target this key area.
Inflation and cost of living
While it could be generalised that over 50s tend to be more financially secure than younger generations, this isn't always the case.  Research by the Office of National Statistics shows that many are returning to work after retirement in order to meet their cost of living needs. In fact, the jobs market shows that over 100,000 more over 50s are currently seeking employment than a year ago.  That said, this age group typically has a higher disposable income due to lower mortgage payments and other long-term financial commitments reaching their natural end.
Key Takeaways
With the cost of living crisis set to rumble on, and inflation likely to soar, retailers ignore the over 50s at their peril. This financially astute demographic is less susceptible to external financial pressures than younger generations and is more likely to part with their money than most.
So, if you are not already considering how you can market to this key group of spenders, now is the time to put plans in place to put your brand at the front of mind.
Next Steps
While you may be ready to put growth strategies in place to target this forgotten demographic, it's vital to ensure that you have the right technology in place to facilitate your plans – and your retail management solution is key.
Taking the lead from Unbound's strategy, it's important to have the technology in place which allows you to truly understand your customer base. Add to that the need to get to grips with your customers' shopping behaviour and habits and it's clear that a basic retail management solution simply isn't enough.
To really maximise your potential, your solution should also support your marketing activities, loyalty programme, eCommerce and in-store PoS, and provide you with detailed insights into your customers so that you can effectively segment and target your over 50s audience.
If you're current solution simply doesn't provide the functionality and features you need to grow your business, why not book a discovery call with our team who will be delighted to offer free advice and explain how OpSuite retail management solution could be the perfect fit for your growing business. Call us on 0800 138 0050 or contact us here to begin your journey.
Why choose RMS?
RMS have worked with ambitious businesses for over 18 years, supplying tailored software solutions and EPoS hardware throughout the UK and further afield. Please contact us and discover how we can support your business to increase profits with the latest technology.
Sign up now for news and special offers!
*We are collecting your email information in order to add you to our newsletter recipient list. You can unsubscribe from our communications at any time. You can do this by contacting us or by clicking the unsubscribe button on any of our communications with you.
You can find more information about the details we hold about you and the way we use them in our privacy policy, and you can access this here or we can send you a copy.