How to Increase Energy Efficiency and Boost Your Profits
When it comes to increasing your profitability, saving money is one of the simplest ways to boost your bottom line. While you may not be in a position to reduce variable costs such as staffing or the cost of goods, there are still tools in your arsenal to reduce your spending. One such way is to maximise your business' energy efficiency. Given the recent spikes in energy costs, it makes sense to address this issue immediately in order to mitigate against high prices and future increases in the cost of gas and electricity.
While there are clear economic benefits, there are also important environmental advantages to reducing energy usage.  Let's take a look and get you on your way to becoming more energy efficient as quickly as possible as the trend for sustainable retail gathers pace.
This guide will help you to:
Evaluate the potential for saving energy in your retail store
Control and reduce your energy use
Raise awareness of energy conservation among your staff and customers
Areas for Improvement
Typically the biggest energy user in retail is heating and cooling your premises, closely followed by cold storage, lighting and electrical equipment. These are the areas where you can make the biggest difference in your energy consumption with some simple changes to how you operate.
Introduce a Switch Off Policy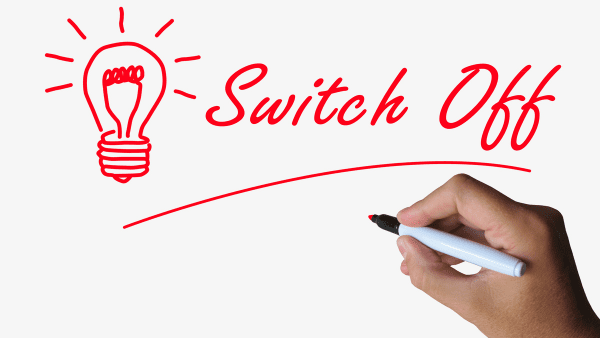 Switching off unnecessary electrical equipment could save up to 5% on a retailer's energy bills while turning off lights can save a further 10%. While switching off may seem obvious, it's also one of the most difficult things to achieve as it relies primarily on employee proactivity. However, staff training, gentle reminders and signage can help you to ensure your staff are switching lights (where it is safe to do so) and electrical equipment off at every opportunity.
While it's believed that leaving devices on standby saves energy, if left for long periods of time they become 'vampire devices' which sap electricity resulting in unnecessarily high energy bills, so it's best to avoid standby and switch them off whenever they are not in use.
Some of the most energy hungry 'vampire devices' are your EPoS hardware. If you have locally installed EPoS software you may risk missing overnight software updates and backups if you switch this equipment off overnight. However, with a hybrid cloud-managed solution such as OpSuite, you get the best of both worlds: your data is stored in the cloud so switching off overnight isn't an issue, while one of your workstations also operates as a small server so you can still trade even if your internet goes down during business hours.
Maintenance
It's important that all equipment is serviced regularly and properly maintained to ensure optimal performance and energy efficiency.  While there are some simple maintenance activities which can be performed in-house, for complex appliances and devices it's best to leave it to the professionals.
Heating and cooling retail premises is the biggest consumer of energy so it's vital that you run these systems as efficiently as possible and have them serviced regularly. For example, a routinely serviced boiler can save up to 5% on heating costs while properly maintained ventilation systems are up to 25% more efficient.
Ensuring you have a proper maintenance contract in place for your EPoS equipment will prevent expensive and unnecessary downtime resulting in loss of earnings. In fact, 40% of retailers estimate that an hour long system outage could cost them up to £10,000 in repairs, lost revenue and reputational damage. Regular maintenance will ensure your equipment is operating as efficiently as possible and increase its lifespan, meaning you require new equipment less often which is better for your bottom line and the environment.
Retrofitting Energy Saving Equipment
In an ideal world, all equipment will have high energy ratings and be as efficient as possible. While that's often the case when buying new kit, many businesses have legacy equipment which is not yet ready to be replaced. Therefore the best means of increasing efficiency is to retrofit energy-saving devices.
For many retailers, the quickest win is to change traditional store lighting to LEDs.  This simple retrofit can save significant amounts of energy and retailers benefit immediately from reduced energy bills.
Another easy-to-install retrofit device is a timer which can be used to automatically switch equipment on and off so that you only use energy when you really need to. Timers can be used on lighting, heating, cooling, EPoS equipment and even on refrigerators housing non-perishable goods such as drinks, saving significant amounts of energy.  For refrigerating equipment which cannot be turned off, installing insulating covers and blinds helps to maintain cold storage temperatures, reducing cold air leakage into the ambient store.
Key Takeaways
Increasing the energy efficiency of your retail outlet is not only beneficial to the environment but it can help to save hundreds, if not thousands of pounds on your gas and electricity bills. And, at a time when energy prices are rapidly increasing, it makes good business sense to invest in energy-saving equipment for your store. In fact, a 20% cut in energy costs represents the same bottom line benefit as a 5% increase in sales.
If your EPoS hardware is out-of-date, it's unlikely to be as energy efficient as it could be. New technology is built with sustainability at the forefront of its design so investing in a hardware refresh can actually save you money in the long run. Oxhoo terminals are developed for optimal energy usage and easy maintenance which is why one of the reasons we have added them to our product portfolio.
For more information on how retail management solutions from RMS can help you to reach your sustainability goals, give our specialist team a call on 0800 138 0050 or contact us here.
Sign up now for news and special offers!
Join our Newsletter
*We are collecting your email information in order to add you to our newsletter recipient list. You can unsubscribe from our communications at any time by contacting us or by clicking the unsubscribe button on any of our communications with you. More information about the details we hold about you and the way we use them can be found in our privacy policy, and you can access this here or we can send you a copy.