An Advanced EPoS Solution
To Help Your Department Store Thrive
Leading the way with OpSuite — a premier EPoS Solution for department stores
With over 19 years of experience in delivering EPoS solutions to ambitious retailers, RMS understands your unique requirements as a retailer. Aligning our experience and expertise with only the best technology on the market, we ensure your department store is always ready for its next challenge.
OpSuite's EPoS solution is specifically designed to meet the needs of retailers offering a diverse range of products such as cosmetics, jewellery, homeware, clothing, footwear, and more. It even has functionality for restaurants and coffee shops within the same premises, helping you diversify and 'future-proof' your operations with ease.
Elevate your sales and empower your staff to sell more effectively with OpSuite, a new era of EPoS for department stores that includes features to enhance customer retention and streamline operations. 
Trust RMS to provide the best EPoS solution for your department store.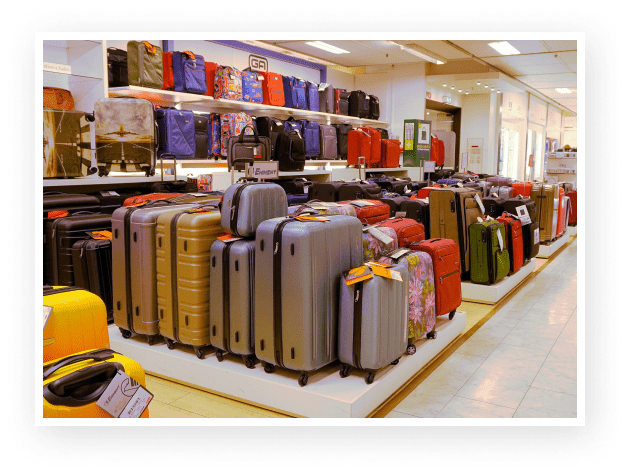 Not your typical EPoS system
The intuitive EPoS solution your department store needs
OpSuite is the ultimate EPoS solution for department stores, featuring a user-friendly interface that facilitates quick training for your staff and enables them to provide exceptional customer service with better speed and accuracy.
Offering customisable screen layouts that allow you to personalise the system to meet your unique requirements, OpSuite helps you refine your operations and deliver a whole new level of customer experience.
With OpSuite, you can manage inventory more effectively by keeping track of stock levels and even consolidating sales data from both in-store and online channels into one centralised system. 
With advanced features such as integrated loyalty programs and real-time reporting, you no longer need to settle for a subpar EPoS system.
What makes OpSuite the best EPoS solution for your department store?
OpSuite's advanced functionality and dynamic capabilities make it the EPoS of choice for retailers with multiple customer touch-points.
Serve your customers with ease
Managing a department store can be challenging. With diverse product ranges, complex concessions, multiple sales counters and many departments to juggle — your staff need an intuitive point of sale (PoS) system they can rely on.
Efficient service and queue busting is critical, especially at peak periods such as Black Friday and Christmas. Luckily with OpSuite EPoS, you can keep queues down and sales up with mobile PoS. Equipped with Zebra TC21/26 or SUNMI L2H mobile units, your shop floor staff can serve customers wherever they are in-store.
With the support of OpSuite and the RMS team, you can ensure a streamlined sales process and customer experience that makes your store stand out for the right reasons!
Full oversight of business performance
To thrive in the retail industry, it's crucial to have access to accurate business intelligence. However, relying on complicated spreadsheets and multiple sources of data may lead you to overlook crucial insights that could improve your retail strategy.
This is where an advanced retail management solution comes in handy.
OpSuite offers an intuitive interface that provides essential information at your fingertips. From stock position to revenue and profit margin, you can obtain in-depth insights into your business's performance right down to the product level.
This information enables you to make more informed decisions, and stay ahead of your competitors in the ever-evolving retail sector.
Streamline inventory management
OpSuite simplifies inventory management for businesses by providing a unified system for tracking inventory and improving replenishment processes. Replacing the need for time-consuming manual processes and complicated spreadsheets, OpSuite allows you to focus on stocking the right products, at the perfect time.
If your business has multiple locations, OpSuite enables you to consolidate your entire inventory. This includes transferring stock between stores and maximising purchasing power — all in one place!
Department stores can also benefit from the ability to identify slow-moving products, maximise storage capacity, and regain control over purchase ordering with stocktaking through OpSuite's wireless handheld devices.
OpSuite's loyalty functionality allows you to engage your customers and keep them coming back for more. With customisable features, you can tailor your rewards to meet your customers' unique needs, encouraging them to spend more and promoting customer loyalty.
The OpSuite system also provides valuable marketing insights you can leverage to create personalised marketing campaigns with email marketing solutions such as SendGrid or MailChimp.
OpSuite's advanced loyalty features include membership clubs, reward programs, and other loyalty initiatives that help capture valuable customer data and create a more engaging customer experience.
Simplify your most complex products
Department stores face unique challenges when it comes to managing inventory. This is largely due to the complexity of product variants and omnichannel sales.
However, with OpSuite's matrix functionality, you can simplify your inventory management processes and ensure you're in full control of your stock.
OpSuite's user-friendly interface makes it easy to track and manage products with multiple variations, including different sizes and colours, as well as bundled products and kit items.
With OpSuite, you can ensure that your inventory data is accurate, and your customers can easily find the products they need.
Expand your store with coffee shop and restaurant functionality
Running a department store with an on-site cafe or restaurant can be a great business opportunity, but it can also cause several challenges — especially when managing multiple EPoS systems.
This is where OpSuite comes in.
As a hybrid retail/hospitality solution, you don't need a separate hospitality system to run a cafe or restaurant on your existing premises. This is because OpSuite can be configured to include hospitality features such as tableside ordering, kitchen printing, split bills and room layout designer.
With OpSuite's integrations, your entire operation can be managed from one easy-to-use platform.
Effortlessly sell in-store and online
Even though the retail industry has been moving towards an omnichannel approach for several years, many department store businesses still struggle to connect their in-store EPoS with their online eCommerce platform. This lack of integration can lead to inefficiencies and missed sales opportunities.
OpSuite's comprehensive omnichannel solution can streamline your retail operations and give you a competitive edge. With centralised inventory management and unified sales data, you can track stock levels and sales across all channels.
OpSuite's customer loyalty features also ensure that your customers are engaged and rewarded for their purchases, regardless of whether they shop in-store or online. By using OpSuite as your all-in-one solution, you can simplify your retail operations and improve your bottom line.
Create pricing strategies that boost sales
Managing pricing strategies across multiple channels and locations is no easy feat for retailers. Thankfully, OpSuite simplifies this process by enabling you to implement multiple pricing strategies and special offers such as quantity discounts, bundle discounts and price breaks.
From a single interface, you can make bulk price changes, schedule price discounts and integrate reward programs across multiple stores — keep your operations running smoothly and your customers happy.
"I can honestly say that RMS are, and always have been, the best EPoS IT company I have ever had the pleasure of working with. They have always delivered on time, within the initial quotes and often beyond expectation. Having been with RMS for over 10 years we simply would not use anyone else."
"RMS always provide a superb EPoS service. They are quick to respond and always willing to help resolve any issues. They never fail to deliver a professional and prompt solution to any problems we may have. I would have no hesitation in recommending RMS to anyone wanting an EPoS system and support."
Frequently Asked Questions
A department store EPoS system unlike any other
Get more information about OpSuite delivered straight to your inbox.