The 'Modern Store' Concept – Lessons all retailers can learn from NRF 2023
In the aftermath of the COVID19 pandemic, many retailers are still dealing with the resultant aftershocks and uncertainty. Although many would have hoped that more than 3 years since the pandemic began, we would be returning to life pre-pandemic, we know that's simply not the case. Retailers are having to constantly adapt to a new world and a new way of thinking and riding the waves of the various disruptions and challenges along the way.
The retail industry is constantly evolving, and with the advent of new technologies and changing consumer preferences, retailers must adapt to stay relevant. The National Retail Federation (NRF) has been at the forefront of exploring innovative concepts, and their 'modern store' concept represents a vision for the future of retail. In this blog, we will explore how to emulate NRF's modern store concept and create an exceptional shopping experience for customers.
What Are The Challenges?
With much uncertainty around the cost of living and many struggling to balance their finances, it will come as no surprise that customer spending is down on non-essentials in the UK. Sales from eCommerce are accounting for more and more of retail spending overall so this means that the in-store shopping experience simply has to be to be exceptional, and also take into account how customers sway between online and in-store buying.
Another challenge is the high turnover of retail workers with 1 in 5 planning to leave the retail industry and 84% reporting deteriorating mental health, financial concerns and 'post-pandemic fatigue.' With this in mind, balancing workers' needs is also a significant pressure.
Reacting to the challenges being faced in retail is simply not enough in 2023. But rather than wondering how to deal with the challenges as they present themselves, retailers need to get ahead and make changes to minimise the impact on their businesses in the future. After all, changes and challenges are inevitable so it's far better to be in a strong position to face whatever comes next.
For the 'modern store' concept to work, retailers need to equip themselves with the right tools to handle the unthinkable, whether that's unpredictable staff levels, workload imbalances or national emergencies – modern systems and technology allow your staff to actively manage challenges as they present themselves. No panic necessary!
The 'Modern Store' Concept
Introduced at the NRF Big Show 2023, the essential components of the 'Modern Store' are:
Engaged Associates

Optimised Inventory

Elevated Customer Experience
Engaged Associates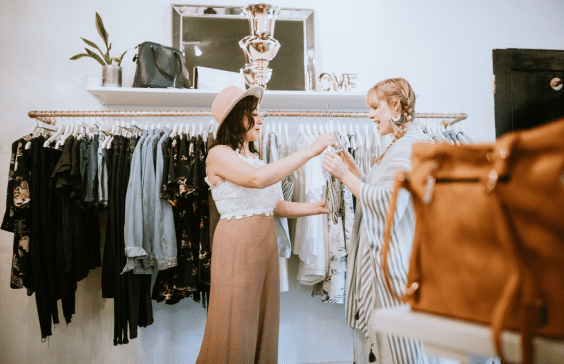 Retailers can take advantage of many opportunities to ensure that their staff are happy in their work, engaging with the customers and ultimately being productive.
By introducing technology to automate processes such as scheduling and allowing employees greater influence over their rota, this takes into account their preferences and allows retailers to help their employees achieve a better balance. Retailers may even find that automating scheduling can result in a reduction of hours needed overall and actually optimise the levels of staffing.

Task management software allows tasks to be managed effectively and prioritised – employees know exactly what to do and when.

Creating an effective culture for communication allows staff to better engage with customers and also with colleagues. With real-time communication solutions, senior staff and managers can better communicate with associates to give helpful feedback and also learn of any concerns or frustrations. Improving employee communication is also proven to reduce staff turnover and providing regular and helpful feedback, 'allows employees to develop a long-term commitment to the company' (

Natural HR

).
Optimised Inventory
Meeting the needs of the customers forms the very bedrock of retail:
With little being more frustrating than finding products out of stock, it's essential to meet customer demand so your technology should support you in providing accurate, real-time data without fail. With

automated inventory management

, you can monitor stock constantly, taking into account forecasting and plan accurately for the future. If the systems aren't in place for accurate inventory management, your employees are powerless to meet customer expectations which can be demoralising and frustrating.

OpSuite's

powerful inventory management software allows you to keep track of your stock across multiple locations with real-time multi-location stock data.


Cut the time your customer waits by semi-automating in-store fulfilment. Your staff will have the tools needed to ensure that

BOPIS

(Click and Collect) orders remain a convenient shopping method.

OpSuite's

full range of fulfilment features provide you with detailed stock insights, on demand. OpSuite can also handle picking and packing lists with details such as weight and dimensions.
Elevated Customer Experience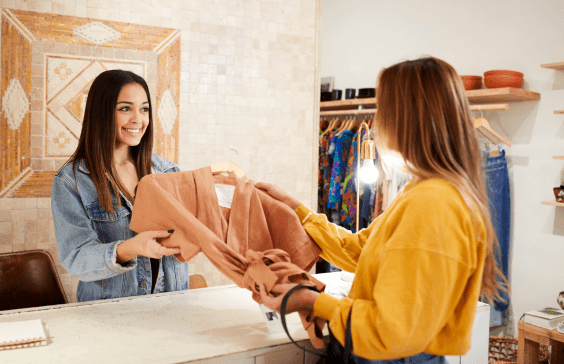 Your employees are an integral aspect of an elevated customer experience. By giving them access to real-time customer and product information, your team will have the ability to share knowledge and expertise on every product you offer:
To emulate NRF's modern store concept, focus on personalisation and

customer engagement

. Leverage data and analytics to understand your customers' preferences, shopping behaviour, and demographics and utilise this information to deliver personalised recommendations, offers, and promotions. Implementing technologies such as interactive screens, digital signage, and augmented reality (AR) will enhance customer engagement and provide immersive experiences.

The physical layout and design of your store play a crucial role in emulating NRF's modern store concept. Create an open and inviting space that encourages exploration and discovery and incorporate flexible and modular fixtures that can be easily rearranged to accommodate changing trends and seasonal displays. Pay attention to lighting, signage, and overall aesthetics to create an engaging and visually appealing environment.

Well-trained and knowledgeable staff are vital for delivering a personalised and exceptional shopping experience. Invest in comprehensive training programs that educate your employees about the products, services, and technologies you offer. Encourage them to actively

engage with customers

, provide recommendations, and address queries. Empower your staff with mobile devices such as the L2 from SUNMI, or tablets to access real-time information and assist customers effectively.

SUNMI L2
Conclusion
Although it may seem that the retail industry has had a lot to deal with these last few years – and it truly has – it's worth remembering that there will always be a level of challenge to deal with, including unforeseen circumstances. From recessions to pandemics, retailers need to be prepared when faced with something that's likely to upset the balance. Unfortunately, events that are likely to cause a disturbance are often quite difficult to deal with so by emulating the NRF's 'modern store' concept, retailers can be in with the best chance of facing challenges head on.
Why choose RMS?
RMS have worked with ambitious businesses since 2004, supplying tailored software solutions and EPoS hardware from the Shetland Islands to the Seychelles. We work with businesses in most retail verticals, contact us and discover how we can support you to emulate the 'modern store' concept. OpSuite offers the flexibility you need to adapt to the changing face of retail. Whatever comes next, OpSuite will help you to stay ahead of the game.
Sign up now for news and special offers!
*We are collecting your email information in order to add you to our newsletter recipient list. You can unsubscribe from our communications at any time. You can do this by contacting us or by clicking the unsubscribe button on any of our communications with you.
You can find more information about the details we hold about you and the way we use them in our privacy policy, and you can access this here or we can send you a copy.