How to Win New Customers and Keep Them in 2023
For small and medium independent businesses, competing with the major brands and large national retailers can be really tough – even feel impossible at times. That's why retaining those hard-won new customers is essential for success. In this blog, we'll share our best advice on how to win new customers and keep them in 2023, and how your POS system can help.
Understanding your target audience
There's a subtle difference between your target market and your target audience. Simply put, your target market is the entire group of people that you would target your products towards. Your target audience is a smaller slice of this group. You'll aim to target promotions and campaigns at these smaller slices differently. E.g. If you are a clothing store, your target market might be men and women between the ages of 18-30. If you were promoting a section of your store, such as women's sportswear, your target audience would be women between the ages of 18-30. You can dive even deeper into your target audience: What problems do they face? What are their interests? How much do they earn?
If you think you know your target audience, it's still sensible to revisit this regularly to be sure that you're targeting your campaigns effectively. When you consistently understand what your target market wants from you, you're well placed to meet their needs and stand out from the crowd.
If you're unsure about the wants and needs of your customers, you can conduct market research with online surveys, social media polls and talking to your customers to gain a better understanding of their buying habits. Choose the methods that work best for you and that you're most comfortable with.
To make understanding your target market simpler, you can invest in the right tools to analyse the information that you collect. EPoS software such as OpSuite comes with powerful Customer Relationship Management (CRM) tools. Over time, your EPoS solution will build a comprehensive understanding of your customer base and their buying habits.
In addition, web and social media analytics can give you an understanding of how customers interact with your brand online, allowing you to track what's popular and target your promotions accordingly.
Developing your Retail Business
Some of the simplest steps to success include making sure that your branding is visually appealing. Your packaging, designs and marketing are all tools you can use to appeal to the people in your target market. For example, if your unique selling point (USP) is that you're environmentally conscious, it's essential that your packaging and branding reflects this.
Knowing what makes your products or services unique enables you to target a specific audience and begin to convince them to choose your brand over others. For this reason, your USP needs to be front and centre when it comes to marketing your products to them.
Finding and marketing your USP:
Put yourself in your customers' shoes – what are they looking for when they find your products?

Keep your content short and punchy with consistent messaging.

Highlight the features that make your products unique.

Don't be afraid to review your USP if it's not working.
If you get your USP right, you'll convince your customers successfully to choose your brand over the competition.
Get the Basics Right
It might sound obvious but building your business on a foundation of outstanding customer service can make or break your success. If you're a new business with little to no reputation, providing exceptional service from the start will encourage word of mouth to spread about the kind of business you are. Spending time finding and developing the right team will go a long way to gaining an enviable reputation for customer service. When hiring your team, look for friendly, approachable people who are knowledgeable and passionate about what you sell. Utilise your own skills to ensure that your team can ask and answer questions to dig deeper into the needs of your customers and also competently deal with customer complaints, should any arise.
For omni-channel businesses, it's a good idea to ensure there is more than one way for customers to contact you. While some customers may like to call on the phone and speak to someone, others prefer to reach out via email or social media.
Your top priorities for getting customer service right should be:
Responding swiftly to customer communications. You can send auto-replies to reassure your customers that they can expect a reply. Set a limit and stick to it – ideally within 24 hours.

Utilise a friendly tone in your responses and ensure that your communications effectively deal with the inquiry.

No matter how small your business, be sure to have a complaints procedure in place so should an issue arise, you are prepared and can deal with it professionally.
If you're a business that truly values its customers, then getting the basics right in customer service will be relatively easy. Be sure to do these things consistently and you can build yourself an excellent reputation and keep customers returning.
Value Loyalty
For your repeat customers, it's essential that you never take this relationship for granted. If you've ever heard phrases like 'I used to shop there all the time, but it's gone downhill', you'll know that customer loyalty isn't something you can hang your hat on. When a repeat customer orders from you, you can follow up their purchases with:
A thank you message via email or text. You could pair this with a request for feedback on their experience.

Offering discounts or freebies for exclusive groups of customers to let them know that you value their loyalty.
Loyal customers are far more likely to share positive reviews about your product with their own networks and are a powerful tool for driving new business.
Market using Social Proof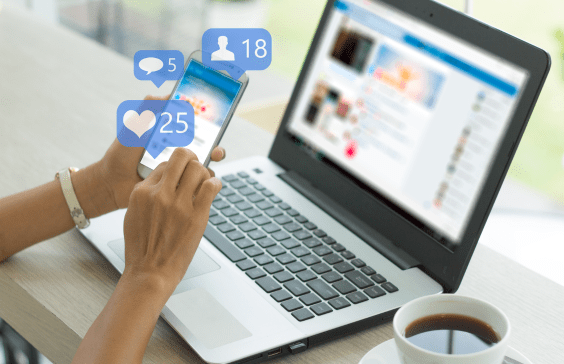 In marketing your brand and your products, you can strike a balance of showcasing the features and USP to your target audiences. It's likely that a number of potential customers won't be enticed by posts about products alone so you can use social proof to convince hesitant buyers to shop with your brand. By interspersing your marketing with positive reviews, testimonials, before/after pictures and various other forms of social proof, you can convince new customers to make their first purchase.
One of the best ways to use social proof is to share positive posts regularly on your social media. Bolstered by additional positive comments on your posts and regular interaction, your brand will build trust with potential customers.
Influencers are also an example of social proof. Where influencers have a wide following, they can help to promote your products to an audience who trust and value their opinion. When choosing to work with influencers, think carefully about your target audiences and ensure that a collaboration proposal benefits both parties.
A very useful and sometimes underused space for social proof is your blog. By regularly publishing high-quality content to your blog, you can establish yourself as a credible source for information. Your blog could consist of news, positive reviews, product tutorials and other information that your target audience would value.
Encourage Urgency
You can encourage hesitant buyers to make a purchase by creating a sense of urgency. There are a few options to speed up decision-making such as:
New customer discount – e.g. 10% off your first order!

A free item with your next purchase

Promotions for specific times of year – e.g. Bank Holidays

Offer free delivery before a certain date.
This not only encourages potential customers to purchase but will also keep your existing customers happy too.
Other tactics such as advertising a limited number of products or an exclusive range can drive sales with a sense of scarcity. Similarly, limited-time offers will encourage sales from customers who don't want to miss out. You can let potential customers know that there is a limited-time to grab an offer in your email marketing, on your social media channels and your website.
For example:
Countdown timers

Stock count 'Hurry! 2 left!'

Using phases such as 'limited time only!' or 'while stocks last!'
If you can create this sense of urgency and use it consistently, you'll achieve sales from your potential customers and create a buzz about your brand.
Invest in an EPoS solution
Thousands of small retailers have discovered the benefits of an intuitive point of sale and how it can revolutionise how you develop and manage your customer relationships. An EPoS solution such as OpSuite has powerful tools to manage inventory, complete and track sales and build an accurate customer picture through analysing customer data. All this, while seamlessly processing payments and providing an efficient checkout experience.
OpSuite has been developed to help you reduce operating costs, increase profit margins, and improve your customer experience in an increasingly fast-paced market.
Conclusion
Winning and keeping new customers is a constant cycle so it's no surprise that a consistent effort is required to ensure that you're getting it right. It's a continuous experiment too so don't be disheartened if your efforts don't immediately yield results, or if something that worked well in the past no longer has the desired effect. The most important thing is to establish your strategy and commit to it, but be sure to evaluate how things are going and have an agile attitude to changing your strategy as needed.
Key Takeaways:
Build up a comprehensive understanding of your target audience and apply your marketing accordingly.

Use Customer Relationship Management software to build an accurate picture of your customers so you fully understand how they shop with you.

Develop your business to find your USP – the reason for your potential customers to choose you over your competitors.

Prioritise exceptional customer service and encourage your team to promote the same values.

Recognise and value loyalty in your customers –

OpSuite

gives you the tools to reward your loyal customers!

Make use of social proof in your marketing – share your great reviews, customer photos and testimonies.

Invest in an

EPoS solution

that improves your customer experience, reduces operating costs and increases profit margins.
OpSuite Retail Management Solution is designed with the customer experience in mind. You can be sure that with OpSuite EPoS, your customers will receive a seamless and consistent interaction with your retail business, winning new customers and keeping them in 2023 and beyond.
Why choose RMS?
RMS have worked with ambitious businesses since 2004, supplying tailored software solutions and EPoS hardware from the Shetland Islands to the Seychelles. We work with businesses in most retail verticals, contact us and discover how we can support your business to provide the best customer experience.
Get in touch to find out how our retail solutions can benefit your business, or to speak to one of our team call 0800 138 0050.
Sign up now for news and special offers!
*We are collecting your email information in order to add you to our newsletter recipient list. You can unsubscribe from our communications at any time. You can do this by contacting us or by clicking the unsubscribe button on any of our communications with you.
You can find more information about the details we hold about you and the way we use them in our privacy policy, and you can access this here or we can send you a copy.