Getting the Customer Experience Right in Retail
Retail is a competitive industry and customers have more choices than ever before. To stay ahead of the competition, retailers must focus on providing an exceptional customer experience. This means understanding customer needs, providing quality products and services, and creating a positive shopping environment. In this blog post, we'll discuss how to get the customer experience right in retail:
Prioritise Customer Service Training: The first step in creating a great customer experience is investing in customer service training for your employees. They should be knowledgeable about your products and services, able to answer questions, and provide helpful recommendations. They should also be trained to handle difficult situations with empathy and understanding. Another key element of getting the customer experience right in retail is understanding your customers' needs. This means taking the time to get to know your customers and their preferences. You can do this by asking questions during interactions with customers or by collecting data through surveys or other methods. Understanding customer needs will help you tailor your products and services to meet their expectations.

Personalise the Experience: Customers want to feel like they're more than just a transaction. Personalising the shopping experience can help create a more meaningful connection with customers. This can be done through targeted marketing,

loyalty

programmes, and personalised recommendations based on past purchases.

OpSuite

allows retailers to build a complete customer picture to target your marketing campaigns more effectively. Customers are far more likely to engage when content is relevant to the individual rather than a blanket experience.

Use Technology to Enhance the Experience:

Technology

can be used to streamline the customer experience, making it more efficient and enjoyable. This can include self-checkout options, mobile apps for easy ordering and pickup, and interactive displays that allow customers to engage with products in new ways. A key way to ensure the customer experience is seamless and consistent is to offer an EPoS system that enhances the

essentials

. There's nothing more frustrating for customers than when the fundamentals of shopping aren't right!

OpSuite

retail management software has been designed with the customer experience in mind. No matter where your customers shop with you, they can expect the essentials to be done right for a hassle free experience. In our previous blog, we shared our advice on what to do if you

don't think your EPoS is working

for you.

Keep the Store Clean and Organised: A clean and organised store is essential for providing a positive customer experience. Cluttered and disorganised displays can be overwhelming and make it difficult for customers to find what they're looking for. Regular cleaning and maintenance can go a long way in creating a welcoming and inviting atmosphere. This is especially helpful for multi-store retail businesses, ensuring that customers know what to expect – no matter where they choose to shop with you. As well as a clean and inviting shopping environment,

it's important to provide quality products and services. This means ensuring that your products meet customer expectations. It also means offering excellent service throughout the shopping process, from helping customers find what they need to providing helpful advice or assistance when needed. These things combined go a long way to ensuring that your customers have a positive and lasting experience with your retail business.

Listen to Feedback: Listening to customer feedback is essential for improving the customer experience. Encourage customers to leave feedback through surveys, online reviews, or in-store comment boxes. Use this feedback to make improvements and show customers that you value their opinions.

Offer a Hassle-Free Return Policy: A hassle-free return policy can help build trust and confidence with customers. Make sure your return policy is clearly communicated and easy to understand. Consider offering free returns or exchanges to make the process even more convenient for customers. Allowing customers to return online orders in store is an example of taking the hassle out of returning purchases.

Train Your Employees to Upsell: Upselling can be a valuable tool for increasing sales and improving the customer experience. With consistent strategies, you can train your employees to suggest complementary products or services that can enhance the customer's overall experience. Upselling with complementary products is an easy way to increase sales so employees need to be assertive and engaged with the customer experience.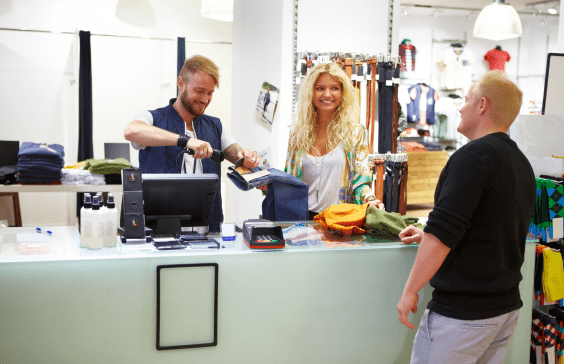 By prioritising customer service training, personalising the experience, using technology to enhance the experience, creating a positive shopping experience, listening to and acting upon feedback, offering a hassle-free return policy, you can create a positive and memorable customer experience that will keep customers returning to your retail business.
Get in touch with RMS to answer any questions about our OpSuite Retail Management System and how we can help you to get the customer experience right in your retail business. We have extensive retail knowledge to find the best system for your business. Whether to discuss how we can help your business thrive or give you an estimate, we'd love to hear from you.
Why choose RMS?
RMS have worked with ambitious businesses since 2004, supplying tailored software solutions and EPoS hardware from the Shetland Islands to the Seychelles. We work with businesses in most retail verticals, contact us and discover how we can support your business to provide the best customer experience.
Get in touch to find out how our retail solutions can benefit your business, or to speak to one of our team call 0800 138 0050.
Sign up now for news and special offers!
*We are collecting your email information in order to add you to our newsletter recipient list. You can unsubscribe from our communications at any time. You can do this by contacting us or by clicking the unsubscribe button on any of our communications with you.
You can find more information about the details we hold about you and the way we use them in our privacy policy, and you can access this here or we can send you a copy.