How to Get Seasonal Staff Ready in Time For the Holidays
The holiday season is the busiest time of the year for retailers, accounting for a significant portion of their annual sales, during the biggest retail events of the year. Meeting the surge in demand from the Black Friday, Cyber Monday and Christmas shopping period, requires additional employees, leading many businesses to hire seasonal staff. To ensure a smooth and successful holiday season, it's never too soon to start the recruitment and training process, while also implementing creative strategies to attract the best candidates. In this blog, we will delve deeper into how to get seasonal staff ready in time for the festive period.
Finding Great Seasonal Staff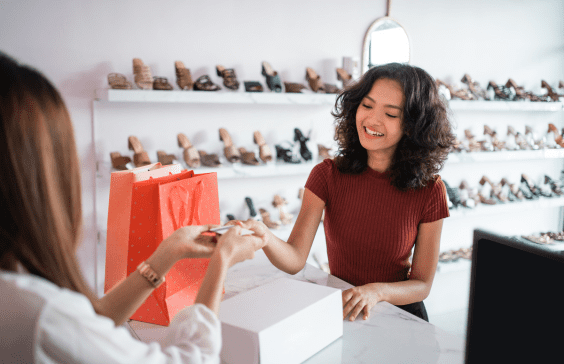 Beyond the traditional methods of posting job ads on popular platforms like Monster, Indeed, and Reed, consider employing these unconventional tactics to recruit exceptional seasonal employees:
Tap into Your Customer Base:

Your

best customers

or avid fans are often the best representatives of your brand. Reach out to them personally with special offers to gauge their interest in seasonal employment. Enthusiastic

loyal individuals

who already love your products will likely be passionate about promoting your brand during the holidays.

Leverage Social Media and Email:

Utilise the power of social media to spread the word about your job openings. Announce your hiring plans on platforms like Facebook, Twitter, and Instagram, targeting your existing followers who are already familiar with your brand and mission.

Involve Your Existing Employees:

Encourage your current employees to refer potential candidates from their network. Hiring people they know can lead to better cohesion within the team and faster onboarding, as existing employees can guide their friends or family members.

Reconnect with Past Employees:

Reach out to previous employees who left on good terms and enjoyed working for your company. These individuals are already familiar with your store's

processes

, making it easier to integrate them back into your team for the holiday season.

Craft Creative Job Descriptions:

Stand out from the competition by writing engaging and imaginative job postings that showcase your brand's personality and values. Such creative advertisements are more likely to catch the attention of potential hires.

Think Outside the Box:

Be proactive in your search for potential candidates. Learn about your ideal employees' interests and hobbies, and find places where they are likely to spend time. For instance, if many of your ideal workers enjoy a particular interest, consider networking at an event or class related to this interest where you can connect with potential hires.

Showcase Your Team:

When advertising job openings, incorporate content featuring your current team members. Let them share their experiences and explain why your business is an excellent place to work. This personal touch can attract applicants who relate to your team and values.
Training and Motivating Seasonal Staff
Seasonal staff may require additional motivation and training to ensure they deliver their best performance during the busy holiday season. Consider the following strategies:
Use Multiple Training Methods:

Diversify your training materials to accommodate different learning styles. Provide written instructions, images, and videos to help new hires grasp information more effectively.

Pair Seasonal Hires with Regular Employees:

Encourage a more cohesive and supportive work environment by assigning mentors from your permanent staff to guide and train seasonal employees. This approach fosters a sense of camaraderie and expedites the onboarding process.

Communicate Effectively:

Keep your seasonal staff informed about any changes, updates, or company news through regular communication. Avoid an "us and them" dynamic by ensuring all employees, regardless of their employment status, feel valued and engaged.

Express Appreciation:

Acknowledge the hard work of your seasonal employees regularly and show your gratitude through specific compliments and thoughtful gestures. Verbal appreciation goes a long way in motivating the team.

Offer Incentives:

Consider introducing cash bonuses or prizes for outstanding performance and attendance. Monetary incentives can provide an extra push for seasonal staff to go the extra mile.

Highlight Full-Time Opportunities:

If your business has the potential for full-time positions after the holiday season, make sure to communicate this to your seasonal hires. Knowing there's a chance for future employment can boost their dedication and commitment.

Provide User-Friendly Tools:

Equipping your team with

intuitive hardware and software

simplifies their responsibilities, allowing them to focus more on providing

excellent customer service

. An efficient and

user-friendly setup

ensures your seasonal staff can quickly adapt and contribute effectively.
How Can OpSuite Help?
OpSuite POS training mode is a valuable tool for assisting with the onboarding and training of seasonal staff members. Designed for efficiency and ease of use, seasonal staff members can quickly learn how to process transactions, handle refunds and manage customer interactions with minimal training.
A comprehensive retail management software, OpSuite is designed to streamline various aspects of a retail business, making it easier for new and seasonal employees to get up to speed more quickly and ultimately excel in their roles. The intuitive interface allows for easy navigation through the system from day 1.
OpSuite provides detailed analytics and reporting features,  allowing seasonal staff members to monitor their performance and identify areas for improvement. Managers can also use these metrics to provide targeted feedback and support.
Conclusion
The holiday season is a critical period for retailers, and hiring and training the right seasonal staff can make a substantial difference in your business's success. By adopting these strategies, you can attract passionate and dedicated seasonal staff who will go above and beyond to enhance your customer experience during this festive time. Start your recruitment process early, think creatively, and invest in the training and motivation of your seasonal hires to achieve a memorable and profitable holiday season for your retail business.
Why Choose RMS?
RMS have worked with ambitious businesses since 2004, supplying tailored software solutions and EPoS hardware from the Shetland Islands to the Seychelles. We work with businesses in most retail verticals, contact us and discover how we can support you to get seasonal staff ready for the holidays.
Sign up now for news and special offers!
*We are collecting your email information in order to add you to our newsletter recipient list. You can unsubscribe from our communications at any time. You can do this by contacting us or by clicking the unsubscribe button on any of our communications with you.
You can find more information about the details we hold about you and the way we use them in our privacy policy, and you can access this here or we can send you a copy.