Has covid changed the purpose of the store forever?
Covid may be no longer be at the forefront of most people's minds but it has had a significant impact on the way we interact with one another in every day life. For retailers it has meant a revaluation of what they sell and how, and for consumers it has meant a refocus on the retail experience.  Physical stores are changing to meet the needs of both, with some of the world's largest retailers paving the way for change by trialling some very innovative formats to make the decision to visit their store more compelling. This varies from offering events, additional products and services or even classes in order to get more from their existing customers and to reach new markets.
Research shows that focussing on experiential retail means customers spend more time shopping and spend more in each visit as they become engaged at a deeper level. In this blog we'll take a look at a selection of concepts, trends and experiential themes being tested by large retailers and examine how they can be applied to any retail business.
Health and Wellbeing
One thing's for sure, after almost two years of lockdowns and restrictions on our movements, physical and mental health and wellbeing is at the top of the agenda for many consumers. With sales of health products on the rise, retailers are now looking to build wellbeing retail experiences into their offering.
Selfridges are literally putting the therapy into retail therapy with their recent launch of 'Superself', a project which aims to promote curated products which support the wellbeing of their customers. This online and in-store concept partners with lifestyle experts who can offer advice on health and nutrition, confidence building and meditation.
Another example is the experience evenings offered by local branches of Boots. Prior to a new product launch, local stores invite a limited number of guests to be the first to try new products from the No.7 beauty range. Following an expert tutorial on how to use these products, guests are given free samples and invited to make purchases at a special 'event only' price.
Integrating a wellbeing experience into your existing product and service offering could not only boost sales with existing customers, but could be the hook you need to attract a new cohort of wellbeing-focussed consumers to your store, boosting your bottom line and growing your customer base at the same time.
Meeting Spaces
Another post-covid trend, largely attributed to lengthy periods of working from home for many, is the idea of hybrid working. While for some this is a mix of home working and visiting the office, many companies have completely closed their offices. To meet the needs of workers who need to physically get together from time to time, meeting spaces are cropping up in retail areas as retailers recognise this clever way to increase footfall.
Ikea's property branch, Ingka Centres, has developed a hybrid, shopping, working and meeting space format with 47 locations worldwide. The newest addition is the Livat centre in Hammersmith, London.  Cindy Anderson of Ingka Centres said:
"Our urban meeting places have been designed to reflect modern, inner-city lifestyles, with more regular visits and fewer journeys by car. The important thing is to create places which are of their community and where everyone is welcome. Meeting places are more important than ever, we have to get away from this idea of either/or for online and physical space."
While this Ikea-based concept may be reserved for the larger retailers with extensive real estate, it's worth considering how existing space could be reimagined to encourage consumer to spend more time on your premises, offering them an experienced which is not just transactional but which also adds value to their day-to-day lives and encourages them to invite others to join them in your store.
Partnerships and Concessions
If you have spare real estate capacity, rather than expand your range or spread your wares across a larger area, think about complementary concession partners who may benefit from using your excess floorspace and which will enhance your retail experience. Tesco is leading the way in this particular trend, with Timpson, Vision Express, Decathlon, Holland & Barrett and even Pets at Home taking concession space and putting kiosks on their premises. Not only does it provide guaranteed rental income but it also increases footfall which has a positive impact on your revenue and offers your customers multiple reasons to visit your store.
Not only should you consider the potential for concessions in your own store, but if your brand lends itself to the concession or pop up shop model, it's worth investigating suitable locations. American retailer Bloomingdales has recently created 'Bloomies', a small pop-up format outlet situated outside large shopping centres where they otherwise have no presence. Bloomies sells a smaller selection of clothing, shoes and accessories but also acts as a click and collect and returns hub for Bloomingdales customers.
In the UK, Marks & Spencer recently partnered with 11 high street brands in a bid to bring more foot traffic into their stores. Brands including Seasalt Cornwall, Phase Eight and White Stuff have joined the line-up which is designed to "turbocharge growth" according to M&S Brand Director, Neil Harrison.
Partner revenues don't just have to come through retail, if you have spare logistics capacity or warehouse space you have an equally valuable asset with many smaller retailers actually taking a fulfilment role for others as they offer parcel collection points and other on-site services.
Dual Purpose Retail Space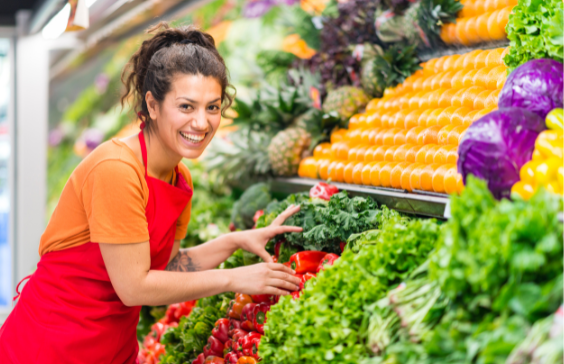 While supermarkets have lead the way in recent years when it comes to dual-purposing their real estate, they have also perfected the art of using their shop floor for online order picking. While they commonly do this to fulfil their own online orders for click and collect and deliveries, there is a growing trend for third party order fulfilment, for example for the brands they represent as they seek to reduce operating costs.
Andy Allen, Global Head of Research for Savills says,
"Supermarkets work on the back of not only people shopping conventionally, but with pickers or back-of-house fulfilment. The envelope (large size) of the store permits things like micro fulfilment and working with quick delivery companies."
Complementary Services
For some retailers, their particular product set may lend itself to providing product-specific services. For example, a sporting goods store may introduce a racket stringing service, or a cosmetics store may offer make-up tutorials to enhance the retail experience.
Pet's at Home has nailed the complementary service offering with their Vets for Pets veterinary services and the Groom Room pet grooming service, both of which are situated within existing retail premises. This model is an excellent example of combining experiential services with traditional product sets. Customers now have not one, not two, but three reasons to visit the store, offering a one-stop-shop for pet owners.
Key Takeaways
The face of retail is changing as customers prioritise the shopping experience and opt for retailers who enhance their lives by offering more than just the products they need. Retailers who provide a destination which people want to visit for a multitude of reasons will inevitably see increased footfall and profits.
However, as with many changes in retail, business owners must ensure that their technology is capable of handling new revenue streams and new ways of operating. Many of the concepts covered in this article could require new technology to support the implementation and day-to-day management of your new products or services. If your existing retail management system simply can't cope with the functionality you need to execute your growth strategy, why not book a discovery call with our expert team to discuss your plans. We'll assess your requirements and provide you with detailed feedback on how OpSuite retail management solution, coupled with the latest hardware can support your ambitions.  Call our team on 0800 138 0050 or contact us here.
Why choose RMS?
RMS have worked with ambitious businesses for over 18 years, supplying tailored software solutions and EPoS hardware throughout the UK and further afield. Please contact us and discover how we can support your business to increase profits with the latest technology.
Sign up now for news and special offers!
*We are collecting your email information in order to add you to our newsletter recipient list. You can unsubscribe from our communications at any time. You can do this by contacting us or by clicking the unsubscribe button on any of our communications with you.
You can find more information about the details we hold about you and the way we use them in our privacy policy, and you can access this here or we can send you a copy.