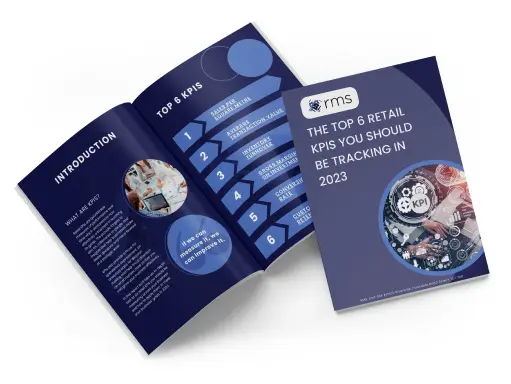 Gain valuable insight into your business' performance! Support your growth and make better decisions moving forward!
Retail KPIs are quantifiable measures of performance over time which
demonstrate how effectively a business is reaching its goals. They
provide targets to aim for, milestones to gauge, and insights that help
businesses make better decisions and move forward at a strategic level.
KPIs also provide a focus for operational improvement, an analytical
basis for decision making and help focus attention on what matters
most so that you can grow your business effectively.
"If we can measure it, we can improve it."
Our brochure takes an in-depth look at six retail KPIs you should be measuring across your business and how to apply them to meet your
business' goals. Interested in finding out more? Simply fill out your details and we'll get the brochure across to you!
Contact Our Team to Discuss Your  Needs
At RMS, we offer a wide range of products from some of the world's leading brands in the point-of-sale industry. Our shop-by-brand page features a comprehensive list of brands that we carry, making it easy for you to find the products you need from your preferred manufacturer.
We are proud to partner with some of the most trusted and respected names in the industry, including AURES, Epson, Honeywell, and Zebra, among others. Each of these brands has a proven track record of providing high-quality products and exceptional customer service, making them the perfect choice for businesses of all sizes and industries.
Whether you're looking for a new cash drawer, barcode scanner, or point-of-sale system, we have everything you need to get started. Our team of experts can help you find the right products to meet your specific needs and budget, ensuring that you get the best value for your investment.
At RMS, we are committed to providing our clients with the highest level of customer service and we offer free shipping on most orders, so why wait? Start shopping today and experience the RMS  difference!